2019 is looking to be a very bright year, and Abdul Hafiz Abdul Rahman a.k.a Katun is currently having the spotlight all to himself, as the artist has just completed an artwork for Chris Brown's new single, 'Undecided.'
Speaking to The Star, Katun said "I was hanging out with my friends when I received an email from Chris Brown's creative director. It was such a unexpected surprise, I even wondered if it was legit at that time. I still cannot believe that I got this opportunity to do an artwork for Chris Brown's single! I was given 100% freedom to create the artwork."
Employing his signature bright palette, Katun's artwork displays a humanoid figure in a hood akin to a fortune teller, offering two life choices in his hands that represents an intersection in the protagonist's life (in this case, it's Chris Brown). Four doors float behind the figure, each labelled with the words Love, Fear, Empathy, and Sacrifice.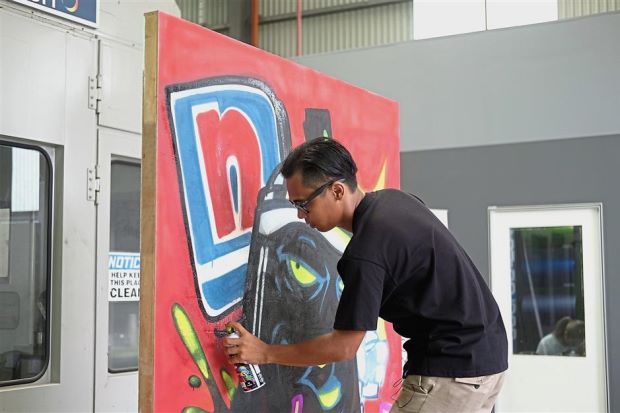 Pictured: Katun
"Basically, I was told that Chris Brown wanted 'something mysterious, something that stands out', so I sent over a few sketches that they could select from. He chose this artwork of the kid with the fortune guardian – which is kind of a representation of how difficult it is to make choices in life, or to know what lies ahead," recalls Katun.
A big notch then, in a very illustrious belt of achievements from the artist. For more of Katun's work, head on to his Instagram page.
Source: Star 2