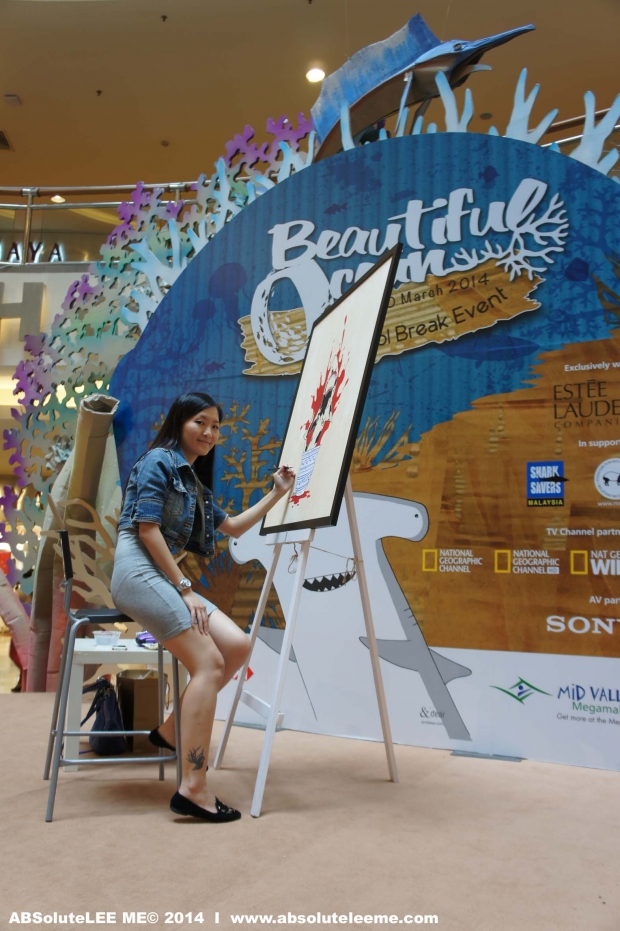 Recently, Abs Lee aka ABSoluteLEE ME created a live painting at MidValley Megamall in conjunction with Beautiful Ocean, a campaign by Shark Savers Malaysia. The painting entitled 'I Don't Belong in your Bowl' is of 3 feet by 3 feet. Using acrylics, Abs painted a shark in a bowl on wood. The painting is currently for sale at RM 500 and 50% of the sale goes to the Shark Saving Campaign charity.
Can you tell me more about this painting?
This painting shows a shark trying to jump out from a chinese porcelain bowl with splashes of blood because sharks worldwide are being killed, exported to and consumed mostly at the Asian continent for their fins. They don't belong in your bowl which is why the illusion of the shark trying to get out of the bowl.
What was your inspiration behind this piece?
This painting was inspired by the chinese weddings which I had attended before and I noticed most of these weddings serve Sharks fin as part of their menu. I find this unnecessary as there are so many variety of dishes which can be serve, why Sharks fin? So in this painting, I had painted a chinese porcelain bowl to remind people of the weddings they had attended or coming ones or those who would be hosting a wedding dinner to take this dish out of the menu. When there is no demand than the killing will too.
How long did it take for you to finish this piece?
It took me around 1 day to get it done.
 In all honesty, are you afraid of sharks?
Erm… have not met one but I'm sure I'm afraid if I do!
What is your favourite medium?
It has always been acrylic.
Who are some of your favourite artists?
Os Gemeos and Dabs Myla
Where do you gather inspiration for your art from?
From almost everywhere! From musics to TV to the internet!
Do you have any events/projects that you are currently/will be involved in?
Not at the moment.
What advice would you give to fellow artists out there?
No paint, no gain!
For more updates on Abs Lee, check out her blog  and her Facebook page.