This edition of the FIFA World Cup has produced its fair share of stunning looking jerseys, especially from the Nigerian team, sporting green, white, and black chevrons adorning the entirety of the jersey, much like the Acronym Vapormax Moc in recent months. Argentina retains with the classic aqua blue stripe alternating with white, and Germany brought out the archive look with a contemporary black and white take on a 60s design. We could go on and on about which jersey has the best design and which is the worst, but we digress.
In fact, the football jersey didn't even look like this way back when it started out. What is now national pride and a cashing tool first originated from just a simple uniform of white, head to toe with a cap to distinguish who's in whose team.
We all know that football was played by the British first as an afternoon activity after work, all the way back in the 1800s. Organised football was established in the 1860s, whereby players differentiated their teams with a cap or a coloured sash as they came down to the pitch with different colours of clothes. Quite apparent then, this had caused problems as players could not distinguish their own colours in time. Referring from Boots, Balls and Haircuts: An Illustrated History of Football by Hunter Davies, a guidebook states that "if it can be previously so arranged, to have one side with striped jerseys of one colour, say red, and the other with another, say blue. This prevents confusion and wild attempts to wrest the ball from your neighbour." Hence, kickstarting the colour coordination of shirts according to teams.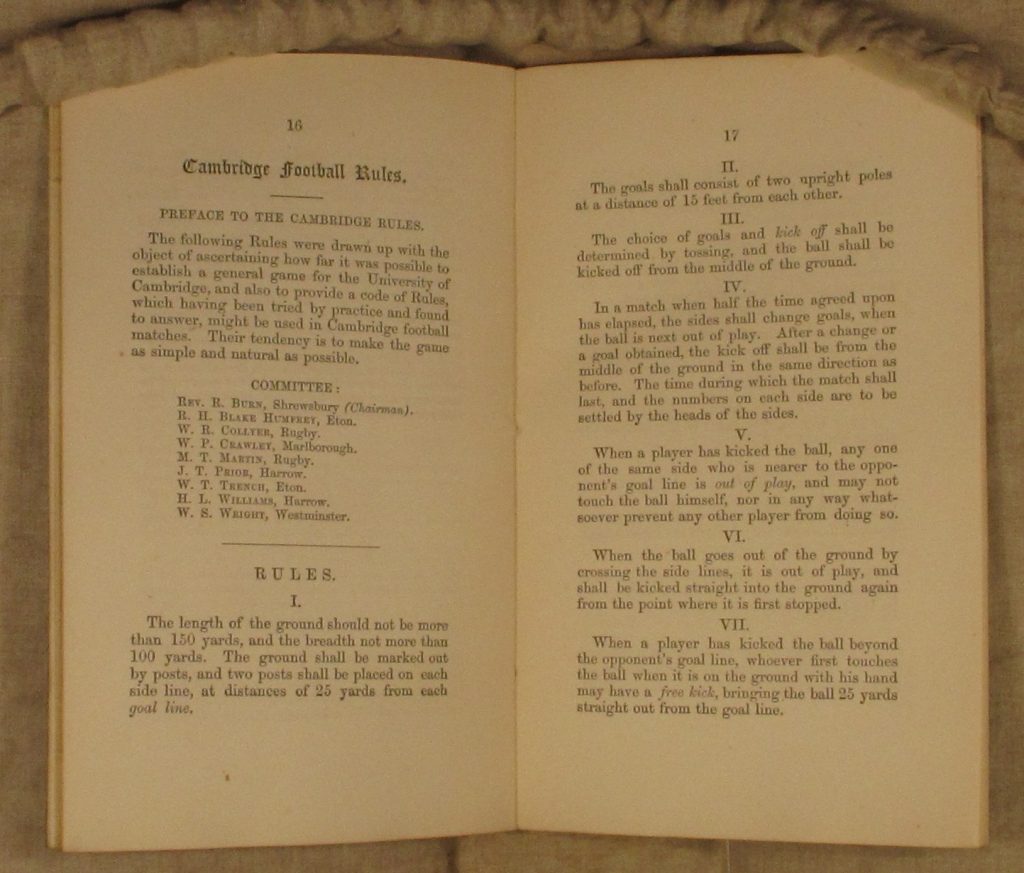 The original copy of the first edition of the Cambridge Rules
Initial designs which arose 10 years after followed colours from the schools or sporting organisations that the club had emerged. Example in question can be had by the Blackburn Rovers team, which took a halved design shirt based on the colours of Malvern College. The initial light blue and white were chosen to mirror their association with Cambridge University, mostly because most of the club's founders originated from there. The university also happens to be the founding ground for the Cambridge Rules. First penned in 1848, it's the first ever guidebook that provided the ruling foundation or 'Laws Of The Game' to modern football that we now know and recognise.
A bit further into this period too, that the Football Association was established, and we find that the popularity of football has shot up so much that it has garnered plenty of public attention. Of course, viewing from the bleachers proved hard for the audience to track the players just by caps or sash, and thus there was a movement to propose that teams be colour coordinated fully for easier viewing.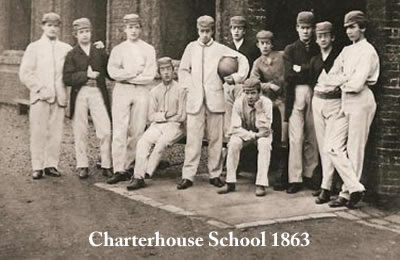 Back then, players played in long trousers, often with a belt or buckle, but gradually moved on to shorts. Shin pads came a little bit later than that, when Nottingham Forrest player, Sam Weller cut down a cricket pads and wore them outside of his socks. He was initially ridiculed at first, but then it eventually caught on as more and more people found the protection useful. nearing the 1900s, shin pads became what we know today, becoming smaller and worn inside the socks.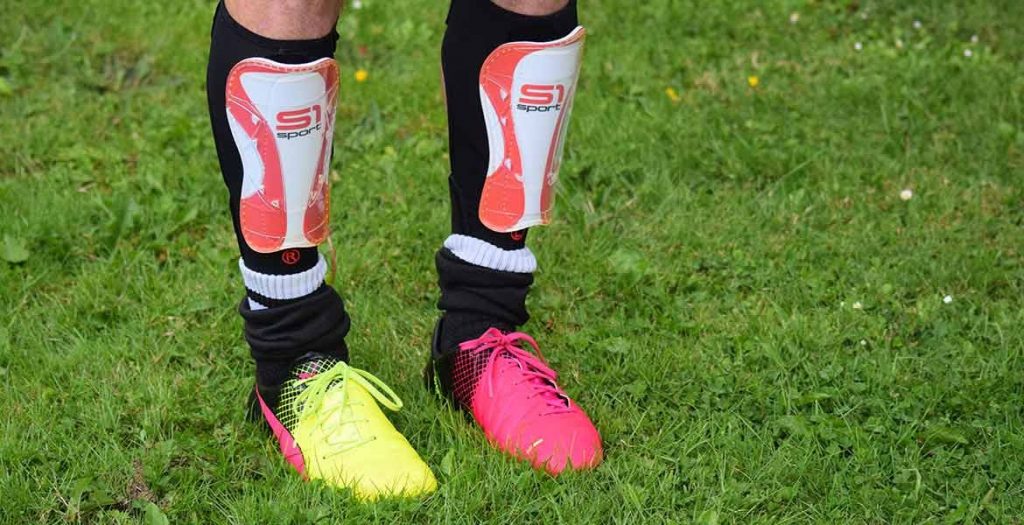 Shin pads with socks rolled down
As the game gradually shifted from a wealthy amateur sport to a more professional setup played by working class people, clubs are now held financially responsible for providing its players with kits whereas before players had to buy it themselves before they were allowed to play. This was also backed by the concerns of the general public who want to identify the players on the pitch easier, hence the shift from striking colours to more simple ones. During this time too, boots had evolved to be more lighter and agile from its workboot counterpart that incorporated nails into its sole, but that's another story altogether.
The early 1900s saw a widespread adoption of football into other countries, particularly around the European region and South America. Juventus FC, an Italian club adopted the colour schemes and patterns of Notts County FC, adorning white and black stripes on their jerseys. This then, spurred on inspiration from other clubs to create unique designs specifically to their club. Numbers were then added and after much trialling, was adopted and standardised on the first 11 after World War 2.
Post World War too saw a change in how the general kit aesthetics look like. From long, baggy shorts and button-down shirts, the kit has evolved to a more 'continental style' of design, featuring lighter, short-sleeved designs with v-necks or rounded collars which would then become the progenitor of the modern football jersey. Synthetic fibres too replaced natural fibres in the manufacturing of the jersey, enabling a more lightweight construction and less prone to wear and tear. However, 1970s brought the final change to modern football as we know. While before this jerseys were relatively plain, someone up there decided that jerseys can be sellable and carry space for advertising brands, and thus the secondary market was born. Leeds United was one of the first clubs to do this, having ditched their usual blue and gold uniform in favour of an all-white design reflecting Spanish giants, Real Madrid, and proceeded to sell replicas of the player jerseys to consumers.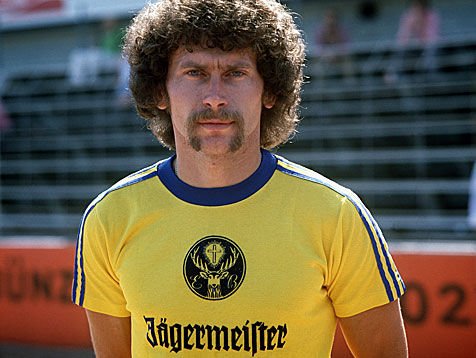 An Eintracht Braunschweig player sporting the Jagermeister jersey
Not wanting to miss an opportunity, brands too now have enquired on whether their name can be added onto jerseys, prompting the start of sponsorship deals, one example being Eintracht Braunschweig, which signed a deal with Jagermeister to promote the liquor on the jersey. It soon became commonplace for brands to have their name plastered on the jersey, with only a handful few teams rejecting deals, from the likes of Barcelona and AS Roma, but eventually caved.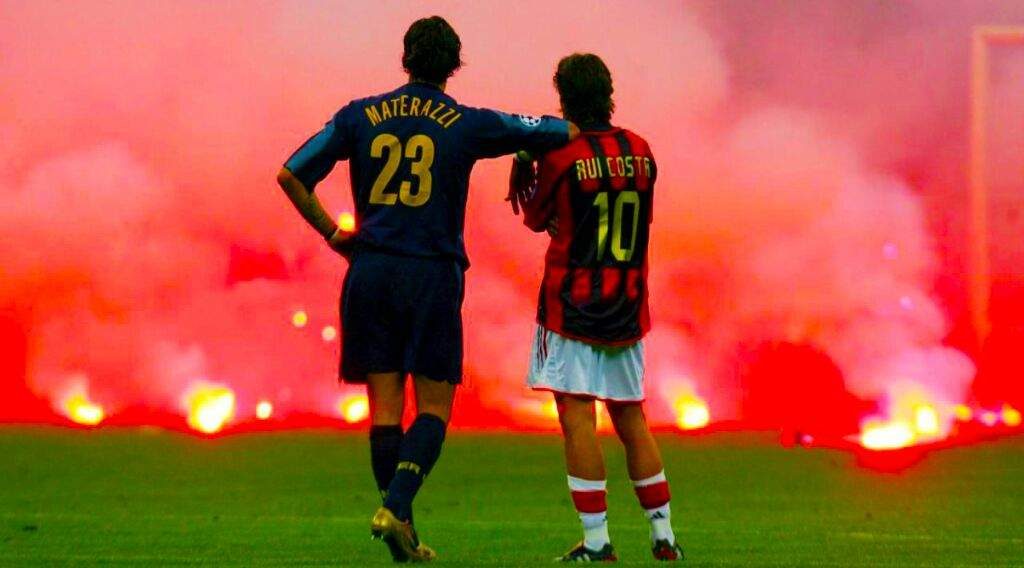 Milan Derby
Since then, very little has changed regarding the foundations of the football kit, only iterations in technology and colours have allowed the garments to be manufactured with new weaves and materials, subsequently giving the jersey a more lightweight, breathable properties that doesn't sacrifice comfort whatsoever for the player. Teams now can be identified by their club colours, notably in the English Premier League with the home kits of Liverpool and Manchester United donned in red. AS Roma in the Serie A drapes in dark burgundy, whereas AC Milan and Inter Milan come in contrasts of red and blue with black stripes.
The kit is now no more just clothing for the footballer and the fan; it now represents all that the club stands for, and to a higher extent, what the country represents. Donning the jersey means that you give your absolute everything to the club, and has ascended into a signage of allegiance, a part of something bigger than yourself.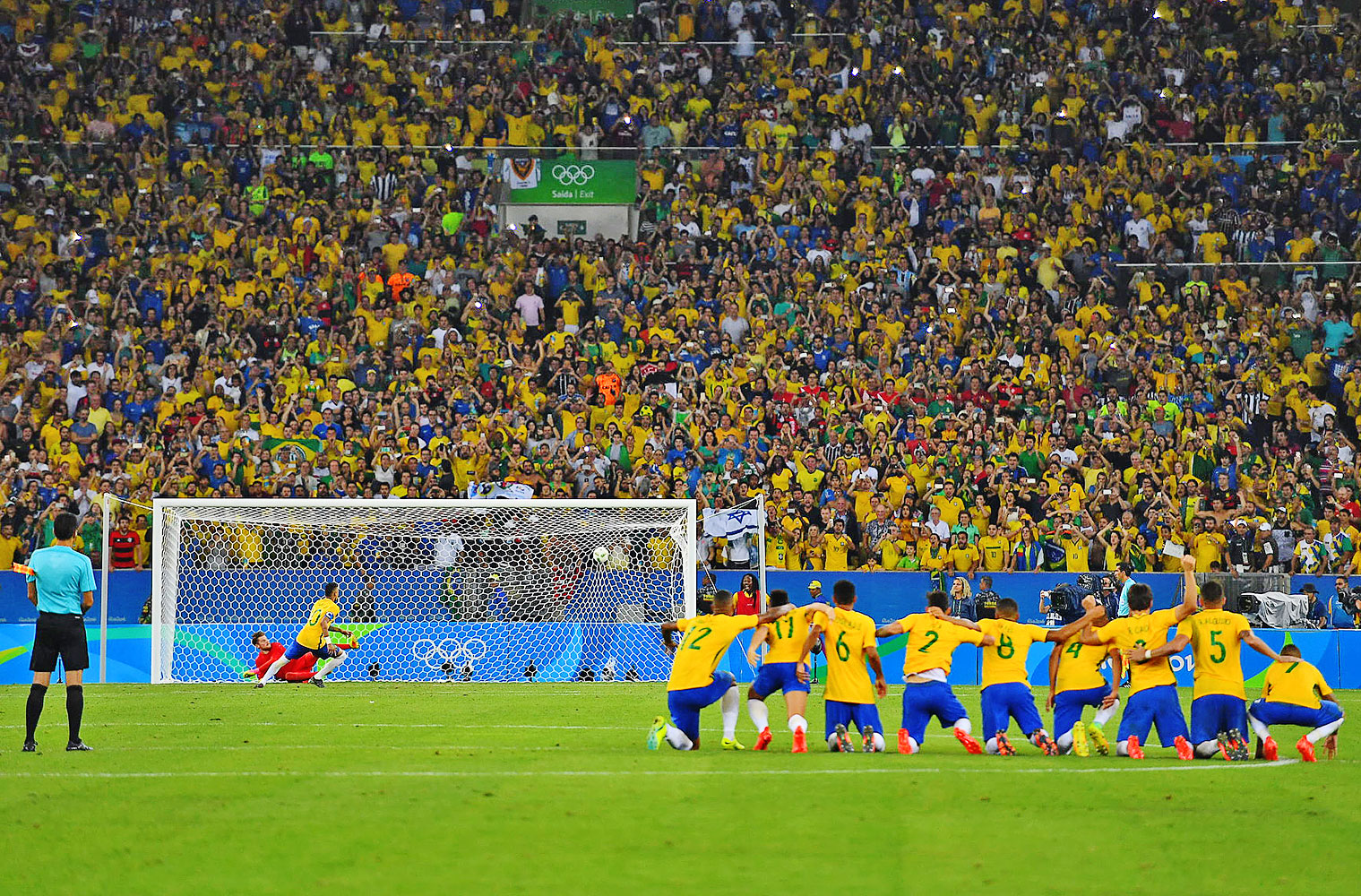 Credit: Jordan Murph/Sports Illustrated