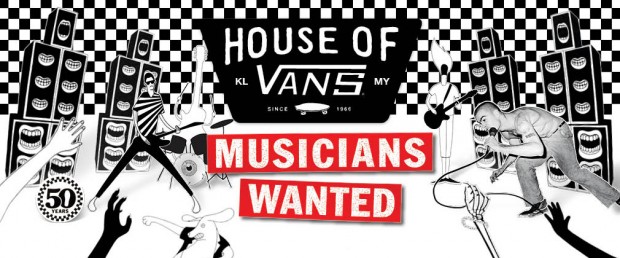 If you're part of a band and have always wanted a good platform to gain some exposure, the House Of Vans is now providing that opportunity! Vans has partnered with TAPAU.tv to give Malaysian musicians the chance to play on the main stage at the Singapore stop of the House Of Vans Asia Tour, in conjunction with its celebration of the footwear guru's legacy.
If you are a musical veteran, aspiring rock star or a newcomer to the Malaysia music scene, this is your opportunity to get some recognition for your musical talent and support some international music acts at the legendary House of Vans events.
From 6th until August 12, 2016, vote for your favorite bands and send them to House Of Vans Asia tour – Singapore Successful. We will select the best 3 musicians based on the panels judge from Tapau.TV and 1 band with the highest vote to be battled on the 3rd of September. Successful Applicants & detail announcement of the Competition will be announced on August 17, 2016. Stay tuned for more information and keep practicing because practice makes perfect!
Musicians Recruitment
22/7 – 6/8/2016
First Round Public Voting
Date: 6 – 12/8/2016
First Round Judging Panel Screening
Date: 12 – 17/8/2016
House of Vans Malaysia Musician Wanted Competition!
Date: September 3, 2016
Time: 8PM onwards
House Of Vans Singapore
Date: September 23, 2016
For more information, please visit vans.com.my/musicianswanted2016