Our BaeWatch this week is the feisty twenty-two year old rapper and singer-songwriter from Subang Jaya, Zamaera who recently performed at SneakerLAH 2017 featuring her second release " Wanita" a few months after her breakthrough in the rap industry this year with her killer debut single "Helly Kelly", repping Subang Jaya that stayed on the MET charts for six weeks straight. Zamaera's versatility with her sultry vocals and ruthless bars in both Malay and English language is an evolution of her freestyle approach to the genres of R&B and Hip Hop. She has collaborated with acclaimed Malaysian rapper, Joe Flizzow and SonaOne. To top it all of, this bae also competed in Red Bull Blend 2016 last year, a rap cypher competition and named runner up, against 50 all male competitors.

How did you got into the rap game? Has it always been a dream of yours?
"Growing up, music had been an important part of my life and the environment I was brought up in really encourage being expressive so I would say songwriting was something I've always leaned towards to since a very young age."
You recently went on your first Asia tour, how was the experience overall with two talented local artists, Airliftz & Alextbh.
"Surreal. Looking back, I'm still in disbelief that the tour happened. Mostly because Airliftz, Alex, Lyssa (best drummer ever) and I were barely acquainted before the tour but somehow, we clicked in an instant. All of them are so funny, talented and charismatic in their own way which made the experience very vibrant and enjoyable."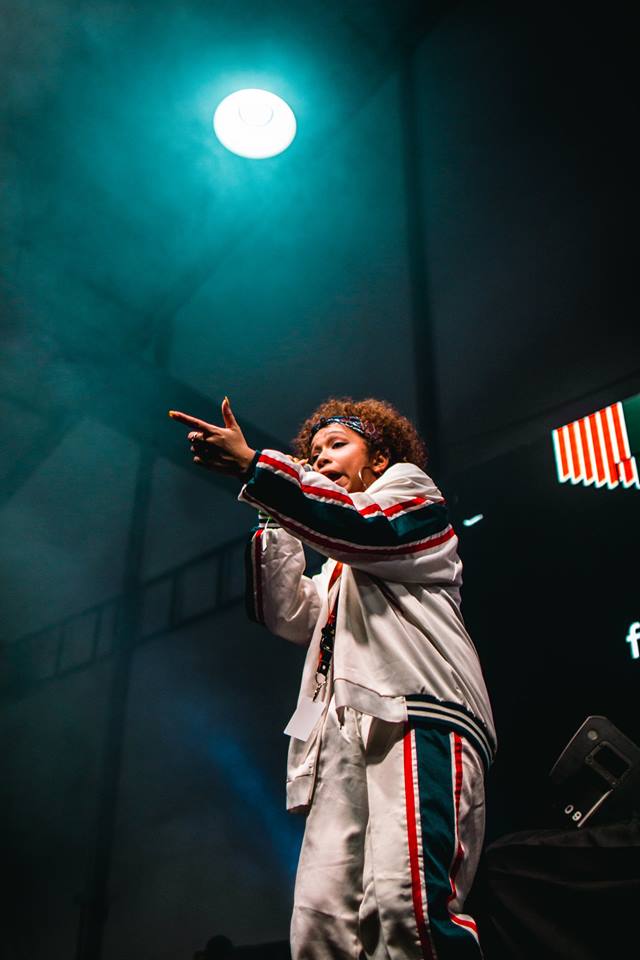 Hip hop and street lifestyle both comes in hand. Tell us how your personal style reflects that.
"I would say hip hop and urban fashion are my current go to styles because the most exciting thing about streetwear is that it really defies certain guidelines of dressing which sometimes turn out to be iconic trends. Basically, when it comes to fashion, I like it when there are no rules."
What are you trying to convey as a rapper?
"To relate, excite and inspire."

What are your thoughts on the current hip-hop scene progression in Malaysia?
"It's expanding into a wide array of talented artists and interested listeners. There are people who listen to hip hop now and don't automatically associate the genre with the preconceived notions that it's all about gangsterism, drug abuse or scantily-clad women. Hip hop began as a tool of expression for a subjugated society and I'm happy to see us Malaysians adopt the nature of that by touching on very real life situations i.e Aman Ra's Budak Flat. People resonate to that because they feel the same way."
What are your struggles as a female rapper in the male-dominated industry? Do you feel like you have to prove yourself more on behalf the minority of female rappers?
"I think the challenges I've faced as a person has taught me to not live in the opinion of others which leads to understanding that everyone has their own struggle regardless of gender and thus not needing to prove myself to anyone else except me."

What advice have you learnt from other rappers in the industry?
"To never give up doing what you are most passionate about. That, really allowed me to reflect within myself and my surroundings eventually resulting in songs like "Helly Kelly" and my newest single "Wanita" which I'm particularly proud of to create an anthem for women, and men too, to remind that women are role models."
What is your advice for new upcoming rappers from your own experience.
"Talent can only bring you so far. Nurture that talent. Read more to write more. Expand your vocabulary. Invest in yourself (time and money). Allow someone who has more knowledge to teach you so you can learn because even the greats never made it just on their own."
Who are other 'Hypebaes' you adore and why?
Dato Seri Vida is the ultimate hypebae! A canny businesswoman that never fails to make me laugh when her videos pop up on my Instagram feed. She's been through many challenges in life and yet is such an optimistic person. I would love to meet her one day. And Nana Haleeq, her discipline towards fitness is very motivating. She is definitely body goals.