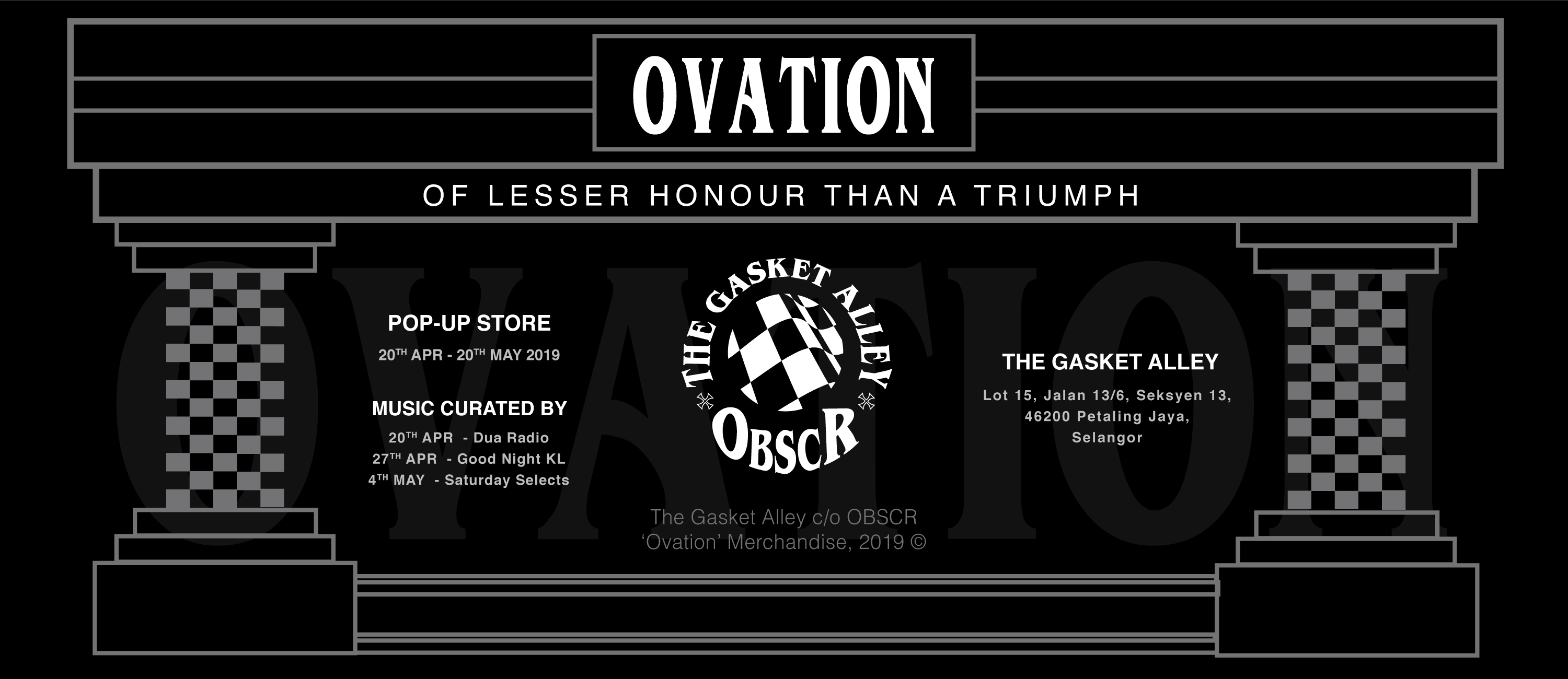 Respect is earned, and respect is given. In this case, OBSCR and The Gasket Alley come together with mutual respect between two different industries to launch 'Ovation,' a conceptual space at The Gasket Alley consisting of a pop-up retail store, café, and block party for a whole month. The three separate segments are curated and designed to tell its own story through its distinct outlook.
Pop-Up Store
A capsule collection will consist of two t-shirts, long sleeve t-shirt, coach jacket, windbreaker, and japanese messenger bag. All will feature graphics inspired by the spirit of motion and visibility, as a depiction of the traits deep rooted in the communication between creativity and the universe.
A live custom silkscreen printing on tote bags will be held on the 20th April.
Coffeeboyclub by OBSCR
An extension of OBSCR, a very different thought-process and identity of lifestyle is condensed in the form of a café. The conception all boiled down to a conversation 5 years ago, when OBSCR was formed in a conversation over a cup of coffee, and the café hopes to catalyze ambition sparking conversations that lead to a real project.
Coffeboyclub's full menu will be unveiled on the official opening of 'Ovation'.
3 parties will be held at the end of every week throughout the month, featuring the crew from Saturday Selects, Dua Radio, and Goodnight KL.
The Ovation Pop-Up will be held on the 20th of April, 2019 from 8PM onwards at The Gasket Alley all the way through 20th of May.
OFFICIAL OPENING: 20th April 2019, 8pm – late
VENUE: The Gasket Alley @ Lot 15, Jalan 13/6, Section 13, Petaling Jaya, 46200 Selangor.
POP-UP STORE—20th April to 20th May 2019 Operating schedule: Wednesday to Saturday (1pm – 8pm)