From Hardcore Shows To A Tribute To Coldplay Show
Written by Aqil Nasri
We're just in the second month of 2020 and the year is already choke-full of big shows filling up the local art spaces here in Malaysia. While the line-up might not consist of huge international artists coming here to perform, the bands and artists at hand are still insanely good, with a mixture of both local legends and up-and-coming superstars.
So, if you're looking at catching a local show here this month, read on out to find out more.

Hari Atas Angin @ Bentley Music Auditorium (February 15)
Happening in about a week's time from the writing of this article, this show is probably one of the biggest local shows happening this month in terms of the acts involved. With local big hitters such as Bittersweet and Iqbal M. and being sponsored by Hausboom, Angkasa, and Rakita radio, Hari Atas Angin is bound to draw in crowds that could reach up to more than a thousand people at once. Do not sleep on this one, or rather, just go out and buy tickets for the event now before it eventually gets sold out.
Currently, ticket pricing is at RM75, with those being the first 500 early birds getting a free Hausboom drink to go along with the ticket.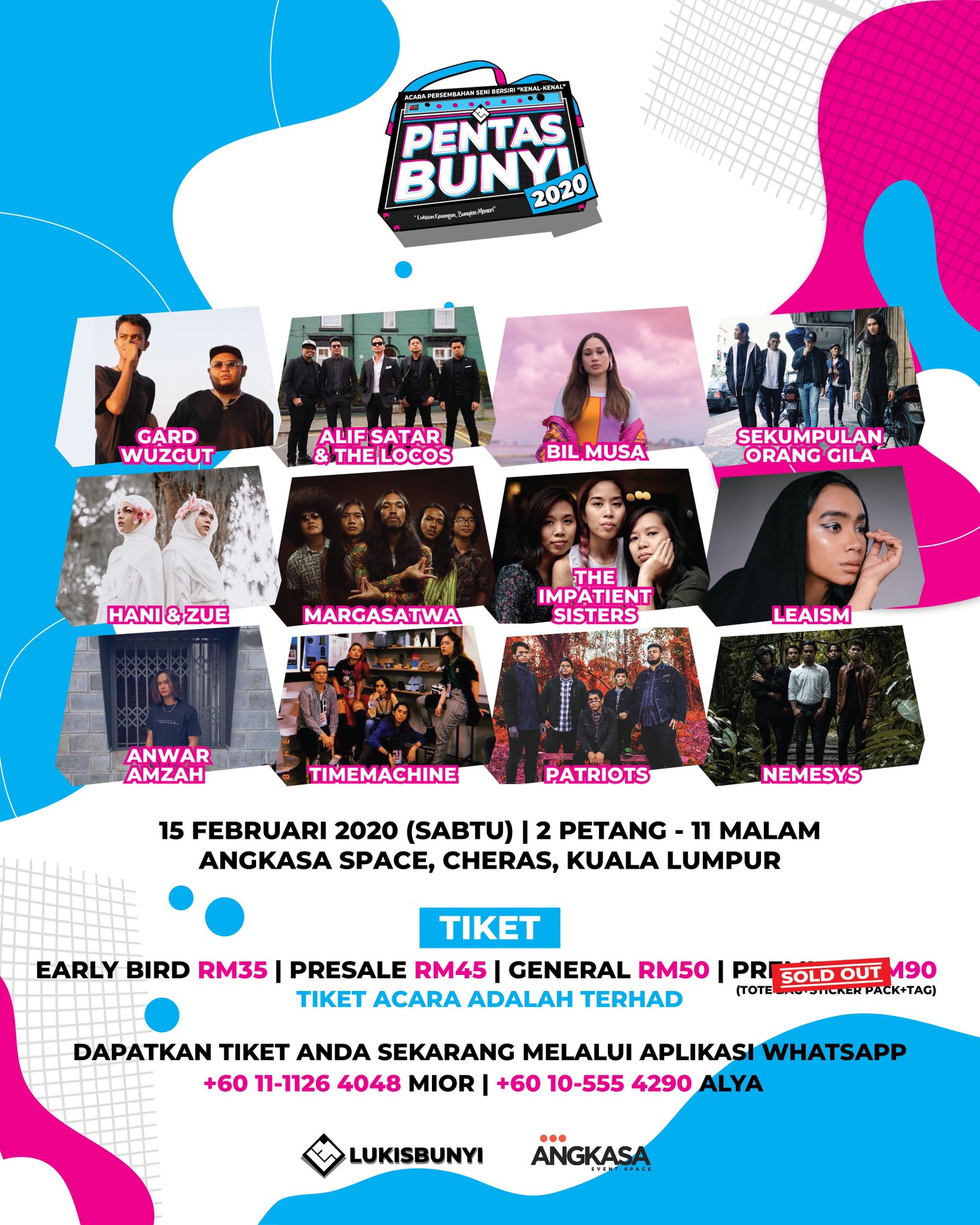 Pentas Bunyi 2020 @ Angkasa Space Cheras (February 15)
Another show being sponsored by Angkasa Event Space, this is a show to look out for, especially since one of its ticket sections have already been sold out (pre-sale premium package). What's surprising is the amount of big up-and-coming artists that will be performing here, such as Bil Musa, Margasatwa, Leaism, and even Gard Wuzgut ("Wonderland" was selected as one of the best songs in 2019 by us) being crammed in a space that I'm not quite sure could hold the tons amount of fans that will show up for the gig.
At the time of writing, Early Bird tickets are RM35, Presale tickets are RM45, and General tickets cost RM50.
School of Sound @ Rumah Api, Ampang (February 15)
Going for a "Back to School" theme, the School of Sound gig is definitely meant for those in love with the nostalgia of high school. With local bands such as Servants, Spooky Wet Dreams, and Berdosa performing during event day, gig-goers are guaranteed to feel the rush of energy exuded from these highly active sounding bands. Expect to sweat and dance a lot, so be sure to bring your dancing shoes with.
Presale tickets cost RM30 and the door tickets cost RM35. If you buy three tickets, you'll get an extra at no extra charge. Also, lovebirds get to redeem a free snack, so if you wanna come, bring your significant other with you as well.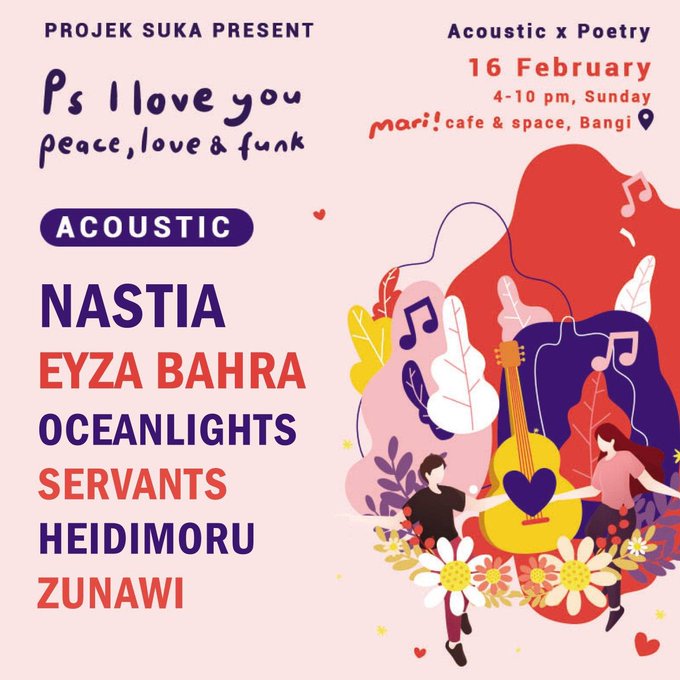 P.S. I Love You @ Mari! Café & Space, Bangi (February 16)
If you want to relax and unwind after a long week, then the P.S. I Love you gig is perfect for you. Gig-goers can expect a homey vibe coming from the show, so get ready to enjoy the feels once you get there. Nastia, Oceanlights, and Servants are part of the line-up performing acoustic sets at the event.
Presale ticket prices start at RM15 per pax and RM25 for Couple tickets. Door tickets cost RM20 per pax and RM30 for Couple tickets.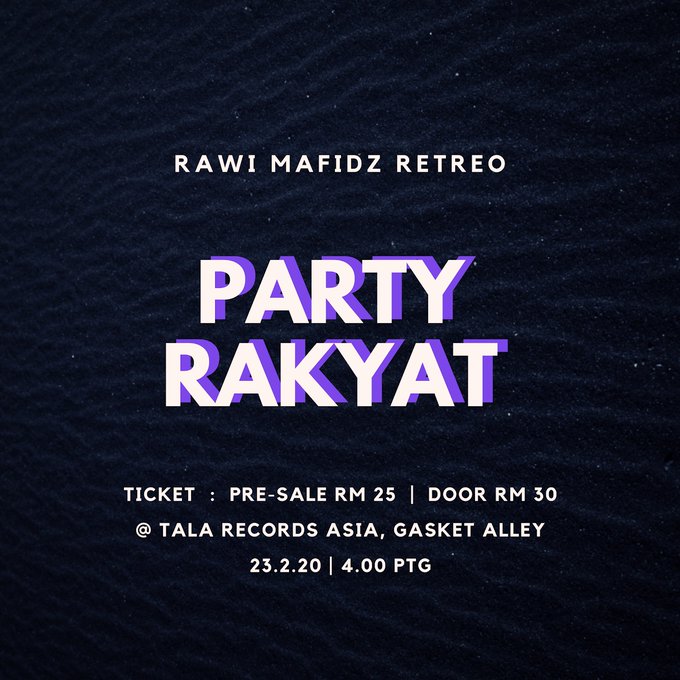 Party Rakyat @ Tala Records Asia, Gasket Alley (February 23)
Get ready to party with Party Rakyat on the 23rd of February! Although the bands involved in the line-up (Rawi, Mafidz, and Retreo) don't really play party music, their soul-experimental music will still invoke the party side of everyone at the gig. Also, it's gonna be one heck of an intimate session as the enclosed spaces of Tala Records Asia will definitely cause gig-goers to bump into each other while dancing.
Pre-sale ticket prices cost RM25 and Door ticket sales are at RM30.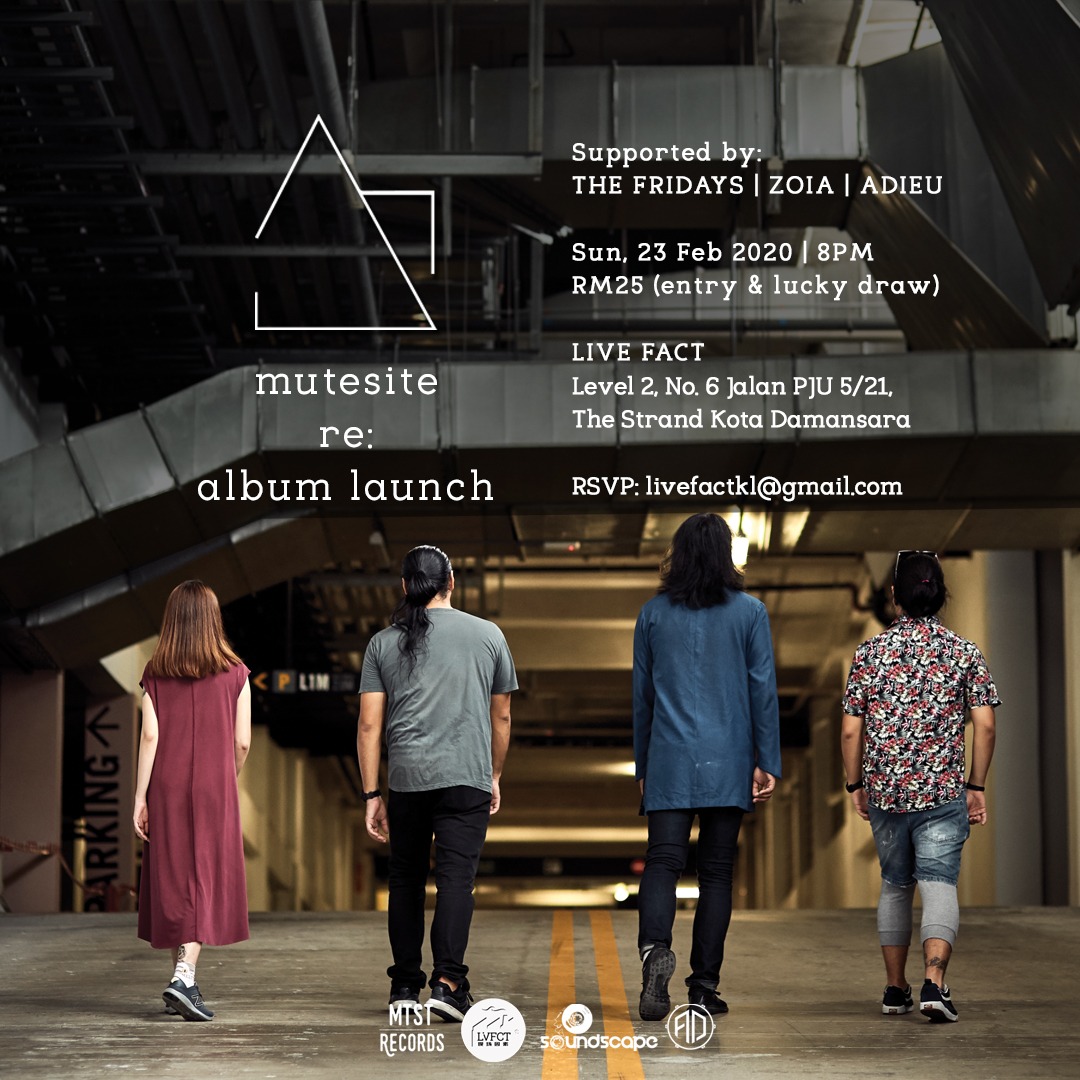 Mutesite re: Album Launch @ Live Fact, Damansara (February 23)
The instrumental rock band hailing from Petaling Jaya will be launching their debut album for the masses to finally enjoy their captivating tunes of complex emotions. Their debut album, titled re: will consist of 10 beautifully written stories through lyricless music. Their album launch will be supported by three other bands, consisting of The Fridays, Zoia, and Adieu.
Ticket prices start at RM25 per entry and will include a lucky draw entry as well.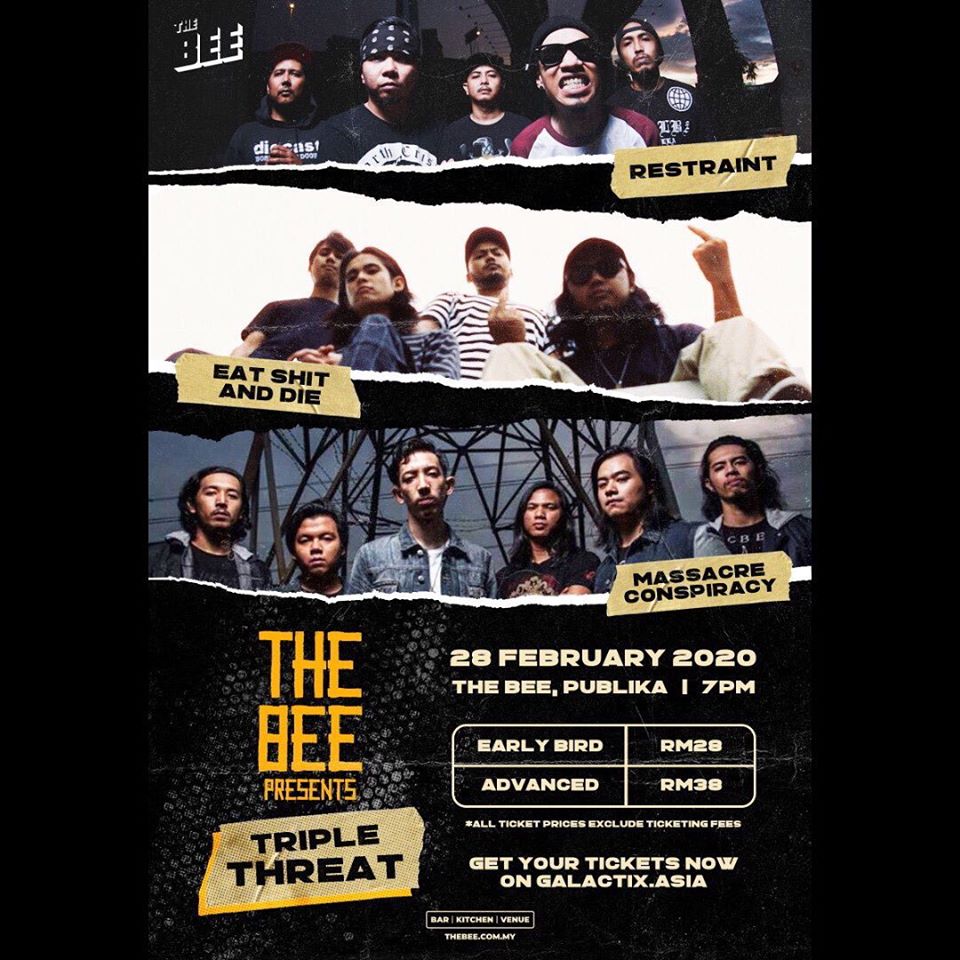 Triple Threat @ The Bee, Publika (February 28)
Consisting of three local legends in the hardcore music scenes, the gig will definitely attract a lot of gig-goers in Malaysia. The line-up consists of Restraint, Eat Shit and Die, and Massacre Conspiracy, with all of them having years of experience performing in the local music scene. Get ready for one hell of a time and be sure to keep safe and get out from the moshpit if you can't handle the intensity in there.
Ticket prices for Early Bird start at RM28 and Advanced ticket sales are priced at RM38.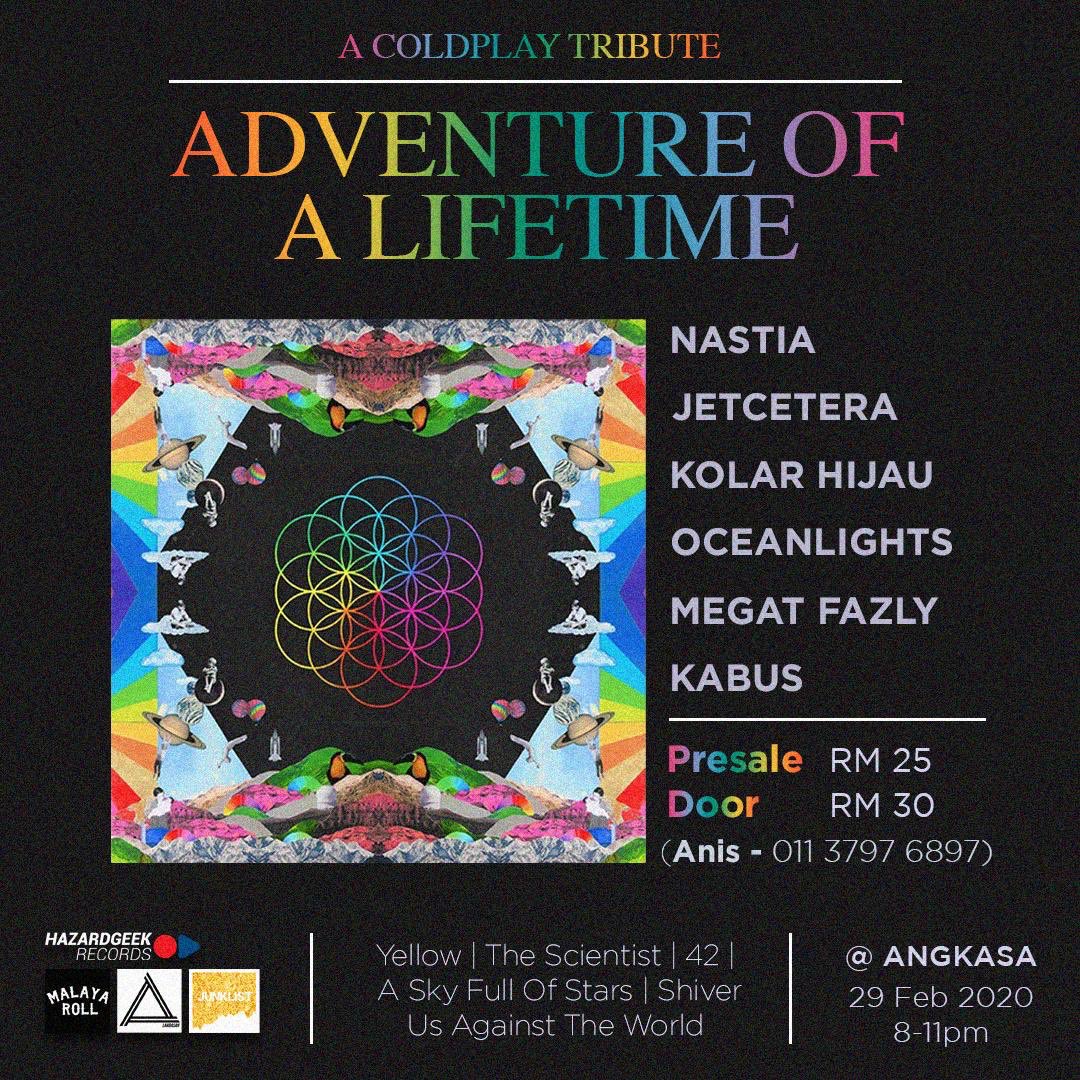 Adventure of a Lifetime (A Coldplay Tribute) @ Angkasa Space, Cheras (February 29)
It's rare that you'd find shows covering Coldplay songs, much less having the band themselves performing here in Malaysia. This is, in my opinion, a show not to be missed by any circumstances at all, especially for Coldplay enthusiasts. Featuring a stellar line-up of local bands such as Nastia, Jetcetera, Oceanlights, Kolar Hijau, Megat Fazly (from Mafidz) and Kabus band, it is shaping to be one of the best shows of the month.
Ticket prices start at RM25 for presale and RM30 for door tickets.