Fahmi Reza is no stranger to stirring shit up when it comes to politics, seeing as his "Kita Semua Penghasut" (We Are All Seditious) campaign which featured a picture of Najib stylised with clown makeup caused much of a storm on social media that everyone who's even active in the slightest will have seen his poster being circulated.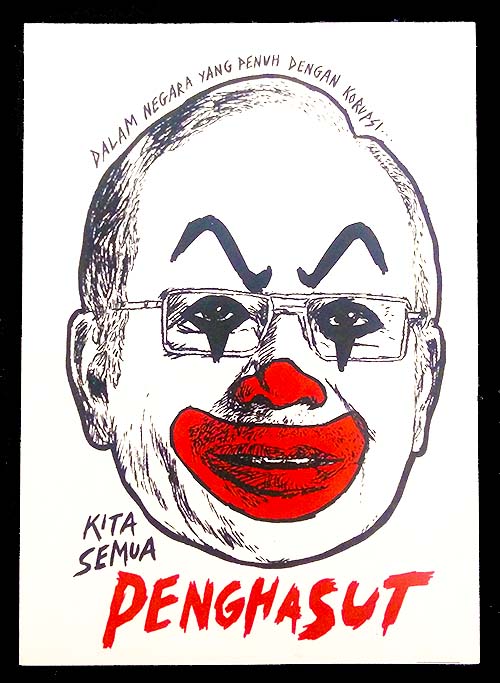 Credit: Cilisos
It is, without a doubt, a successful attempt as a peaceful rebellion, acknowledging and respecting its laws, yet fighting and going against the big man and his authoritarian government in ways only millennials know how to wield. This movement then, has spreaded like wildfire across social media platforms, with people in solidarity behind the movement through the usage of the clown face in posters, stickers, t-shirts, and pins. Which brings me to my next point.
While the political maelstrom has somewhat subsided after the 14th General Elections, there isn't really much need for left wing propaganda to disseminate once more, until Fahmi decided to feature his images onto a template of a slip-on, as part of Vans Asia Custom Culture competition.
According to Vans themselves, the Vans Asia Custom Culture was created to empower individuals and be able to express themselves through art and design. Creatives bring out their best work, transfer it onto a Slip-On template, and the winner gets a cash prize and gets to see their design come to life, as well as host a House Of Vans Workshop. A very cool concept.
Given this then, there is no problem when all is considered; it is after all, an artwork that even though polarises opinions, was still celebrated in terms of impact and the message that it brought to light. However, putting this design onto a shoe sends a different message to those scrolling through their timelines that it is no longer a political tool to unite the citizens under a common cause, but rather an act of cashing out as much as possible before its no longer hyped.
Some netizens too think that it's gone a bit overboard: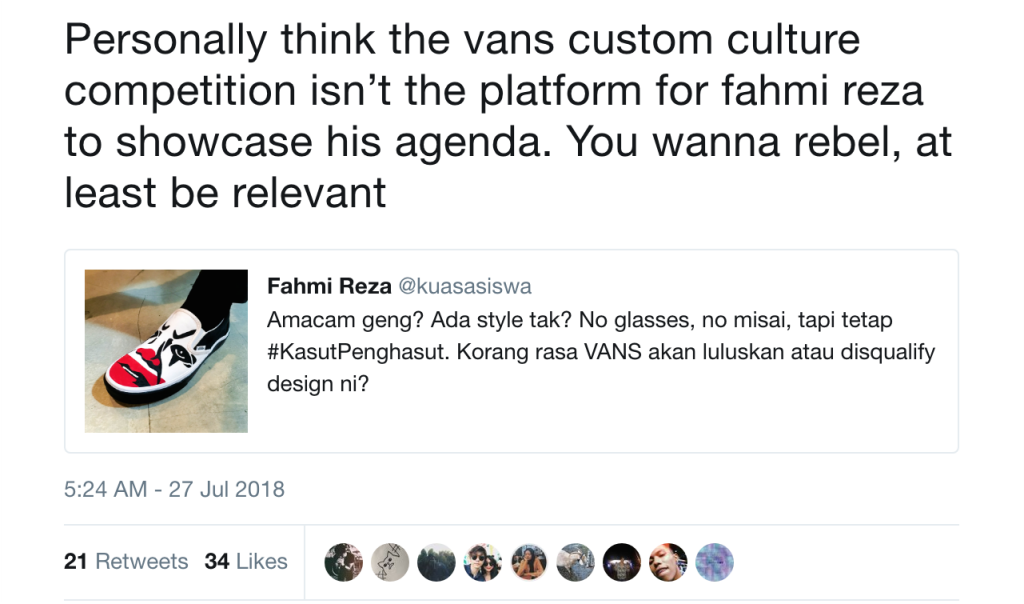 The man himself had this to say when told off by a Twitter user: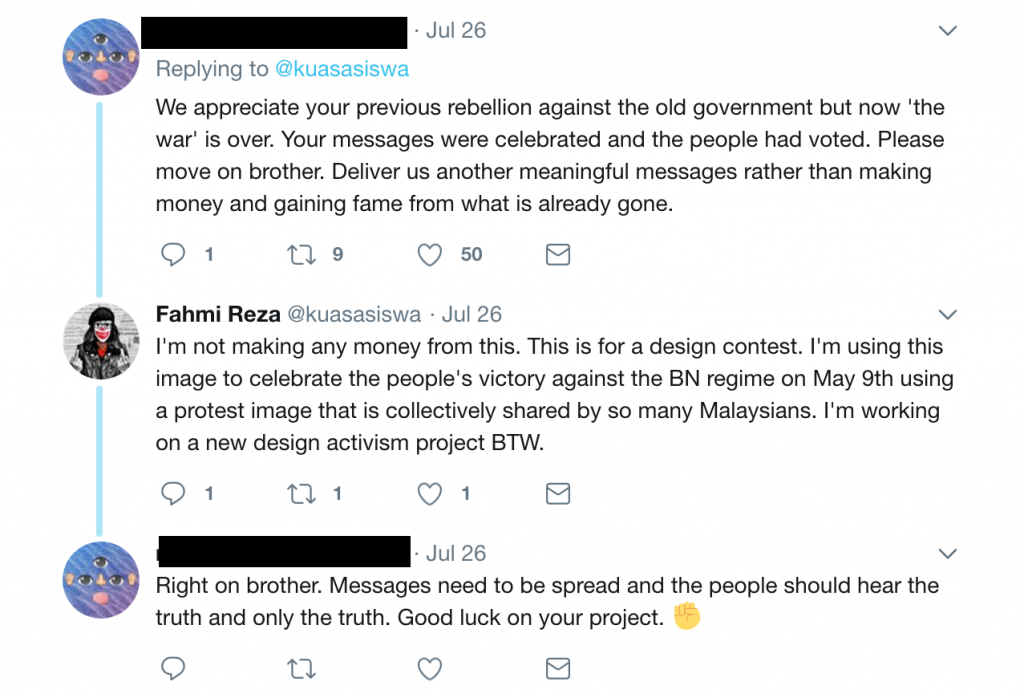 The anger and distaste is also not on unfounded grounds. Vans has clearly stated one of its deciding factors in choosing is to see whether the design represents the culture of the country in some sense, and putting Najib's face on a shoe just brings a wrong message to the ones whose eyes are on us, as a nation. Yes, it is a fruitful victory, that a wholly new government is installed, but as one Twitter user puts it best: protest art is not made to be stylised, but to deliver a message.
It also puts other designers at an astutely horrible disadvantage, when some of the designs more accurately reflect the criteria that Vans has laid out.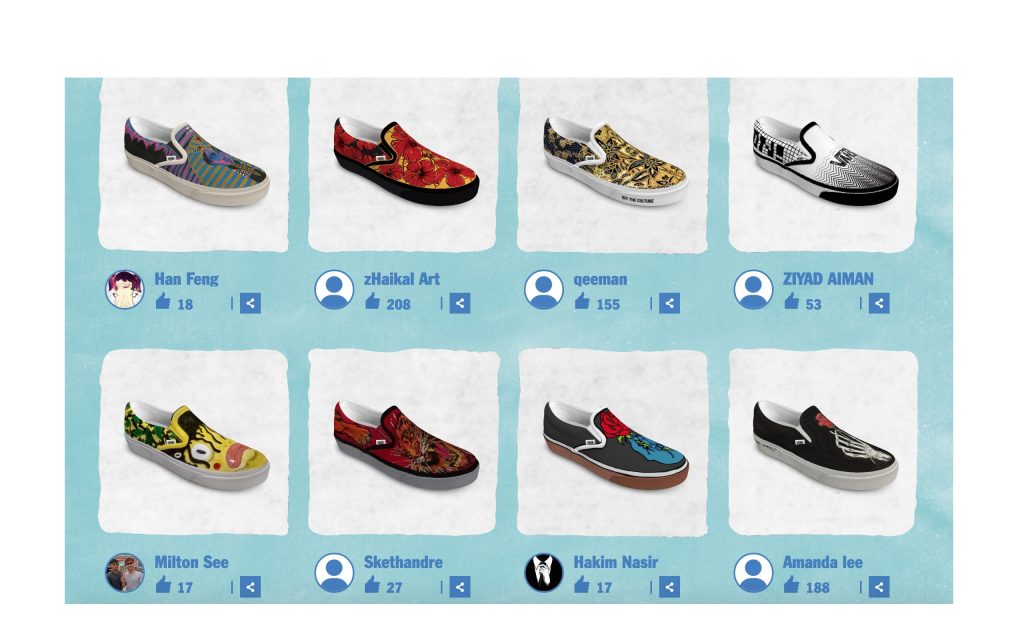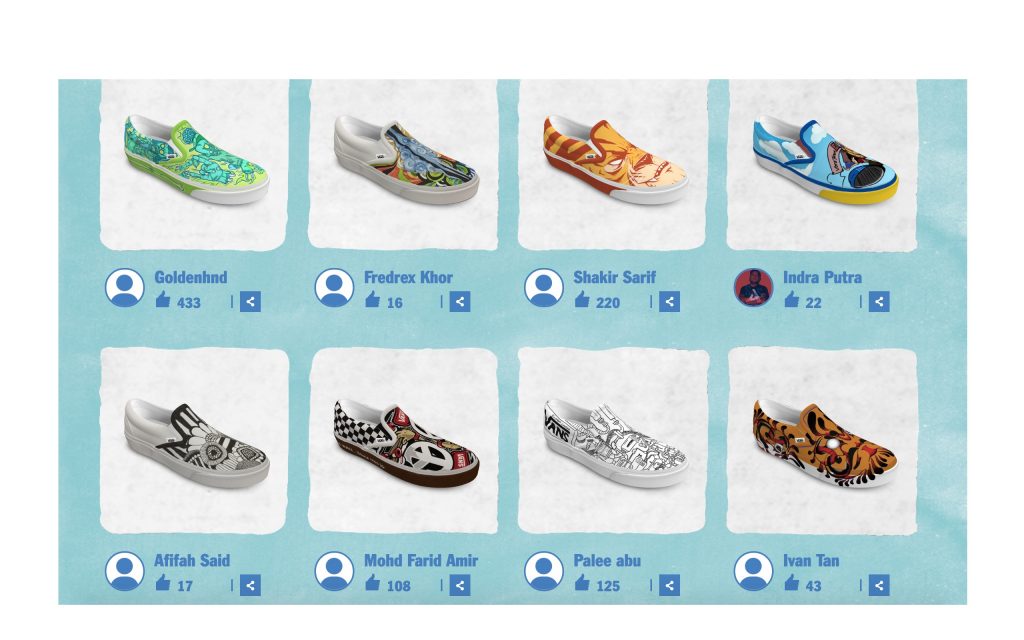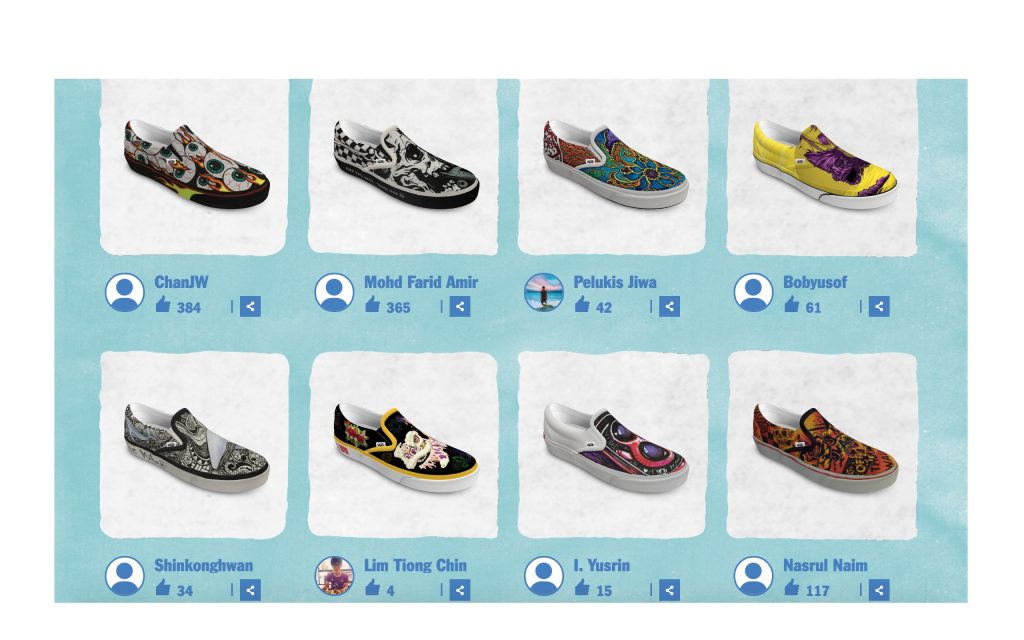 Among some of the other user submitted designs hailing from Malaysia
What do you think? Should Vans scrutinise on the design as it does not accurately reflect Malaysian culture, or should it be continued, as it can still be regarded as an art piece? Let us know your thoughts in the comments below!
For more drama, KITH recently just misdirected bots to the wrong link for Off-White Prestos.